Bio
In January 2021, I decided to leave academia and the San Francisco Bay Area to pursue new opportunities. I am a currently a Senior ML Scientist in a small startup.
Prior to 2021, I was a Postdoctoral Research Fellow in the Department of Physics at Stanford University and a Core Mentor at the NASA Frontier Development Lab. My academic research interests were (and still are) in the application of machine learning in space science. Feel free to check out my current projects.
Before arriving at Stanford, I completed my PhD at the University of Glasgow under the supervision of Dr Iain G. Hannah. My PhD research concentrated on one of the unsolved problems in Heliophysics—the coronal heating problem. During my PhD, I gained expertise in numerous time-series analysis techniques and methods for recovering the differential emission measure (an ill-posed inverse problem) from a wide range of spectroscopic and narrowband data. I am a member of the NuSTAR heliophysics working group, and I led the analysis of the first solar flare observed by the NuSTAR hard X-ray astrophysics imaging spectrometer.
Google Cloud recently developed a website and produced videos on our work at the Frontier Development Lab (FDL). Click the image below to navigate to the Google microsite!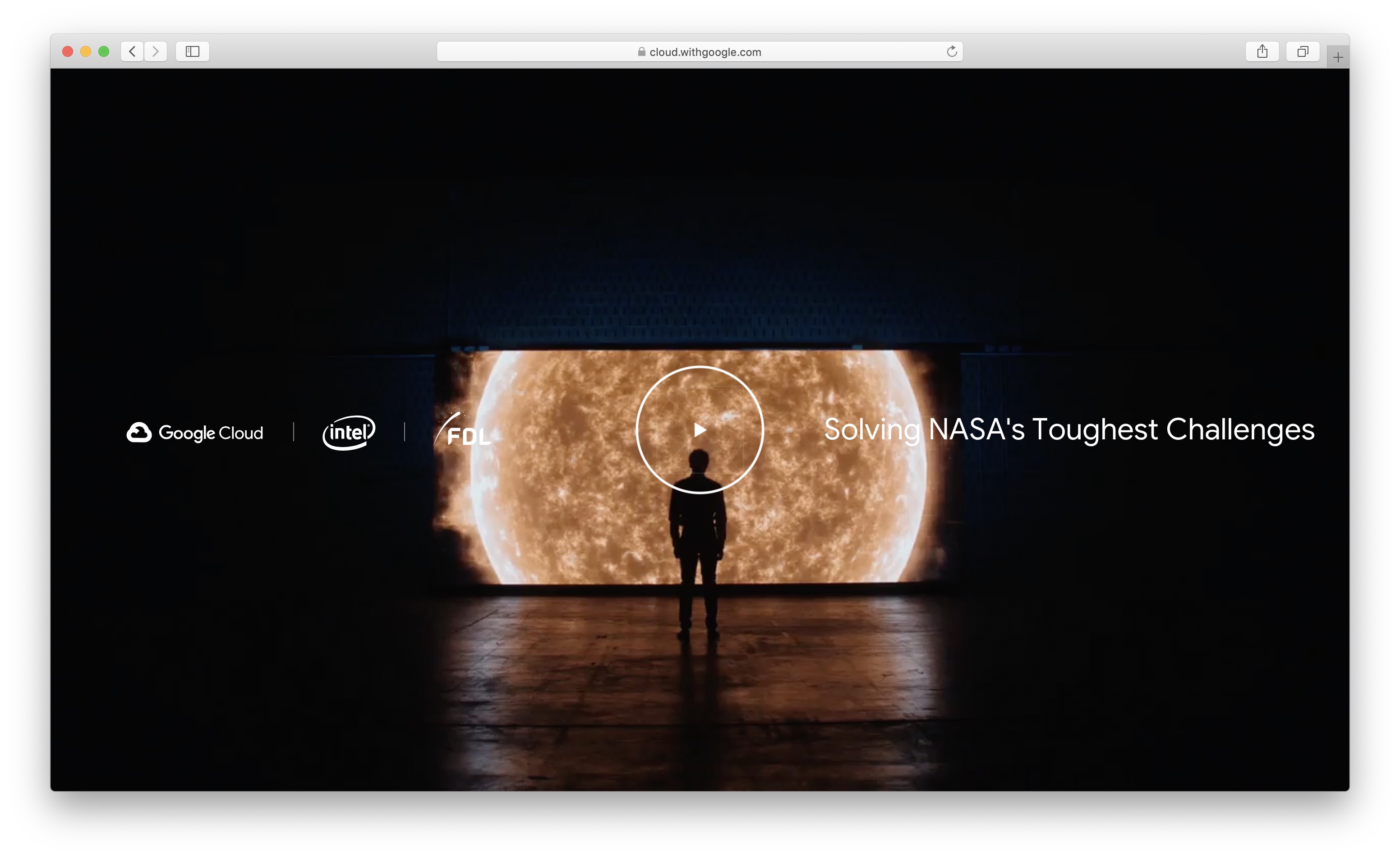 Publications
Complete list of publications on NASA ADS.
Guiding Heliophysics Toward an Enhanced Transdisciplinary Framework
Jenny L. Verniero, James Juno, V . M. Sadykov, Paul J. Wright, Sam J. Schonfeld, Ben L. Alterman
Heliophysics 2050 Workshop, 2020
Toward A Sustainable Software Development Model for Heliophysics
Will T. Barnes, James Juno, Jeffrey W. Reep, Jack Ireland, Paul J. Wright, Sarah A. Spitzer, B. L. Alterman, David Stansby, Emily Lichko
Heliophysics 2050 Workshop, 2020
Science Platforms for Heliophysics Data Analysis
Monica G. Bobra, Will T. Barnes, Mark C. M. Cheung, Laura A. Hayes, Jack Ireland, Miho Janvier, Michael Kirk, James P. Mason, Stuart J. Mumford, Paul J. Wright
Heliophysics 2050 Workshop, 2020
Single-Frame Super-Resolution of Solar Magnetograms: Investigating Physics-Based Metrics & Losses
Anna Jungbluth†, Xavier Gitiaux†, Shane Maloney†, Carl Shneider†, Paul J. Wright, Alfredo Kalaitzis, Michel Deudon, Atılım Güneş Baydin, Yarin Gal, Andrés Muñoz-Jaramillo
In Second Workshop on Machine Learning and the Physical Sciences (NeurIPS 2019), Vancouver, Canada
Probabilistic Super-Resolution of Solar Magnetograms: Generating Many Explanations and Measuring Uncertainties
Xavier Gitiaux†, Shane Maloney†, Anna Jungbluth†, Carl Shneider†, Paul J. Wright, Alfredo Kalaitzis, Michel Deudon, Atılım Güneş Baydin, Yarin Gal, Andrés Muñoz-Jaramillo
In Fourth Workshop on Bayesian Deep Learning (NeurIPS 2019), Vancouver, Canada
† Researchers at NASA Frontier Development Lab (FDL) 2019 (Mentored/Advised)
A Deep Learning Virtual Instrument for Monitoring Extreme UV Solar Spectral Irradiance
Alexandre Szenicer‡, David F. Fouhey, Andrés Muñoz-Jaramillo, Paul J. Wright‡, Rajat Thomas‡, Richard Galvez‡, Meng Jin, Mark C. M. Cheung
Science Advances, 2019
Machine Learning Dataset Prepared From the NASA Solar Dynamics Observatory Mission
Richard Galvez‡, David F. Fouhey, Meng Jin, Alexandre Szenicer‡, Andrés Muñoz-Jaramillo, Mark C. M. Cheung, Paul J. Wright‡, Monica G. Bobra, Yang Liu, James Mason, Rajat Thomas‡
Astrophysical Journal Supplement Series, 2019
DeepEM: A Deep Learning Approach for DEM Inversion
Paul J. Wright‡, Mark C. M. Cheung, Rajat Thomas‡, Richard Galvez‡, Alexandre Szenicer‡, Meng Jin, Andrés Muñoz-Jaramillo, David Fouhey
Helio-ML eBook, 2018
‡ Researchers at NASA Frontier Development Lab (FDL) 2018
First NuSTAR Limits on Quiet Sun Hard X-Ray Transient Events
Andrew J. Marsh, David M. Smith, Lindsay Glesener, Iain G. Hannah, Brian W. Grefenstette, Amir Caspi, Säm Krucker, Hugh S. Hudson, Kristin K. Madsen, Stephen M. White, Matej Kuhar, Paul J. Wright, Steven E. Boggs, Finn E. Christensen, William W. Craig, Charles J. Hailey, Fiona A. Harrison, Daniel Stern, William W. Zhang
Astrophysical Journal, 2017
Observations of Reconnection Flows in a Flare on the Solar Disk
Juntao Wang, Paulo J. A. Simões, Natasha L. S. Jeffrey, Lyndsay Fletcher, Paul J. Wright, Iain G. Hannah
The Astrophysical Journal Letters, 2017
Microflare Heating of a Solar Active Region Observed with NuSTAR, Hinode/XRT, and SDO/AIA
Paul J. Wright, Iain G. Hannah, Brian W. Grefenstette, Lindsay Glesener, Säm Krucker, Hugh S. Hudson, David M. Smith, Andrew J. Marsh, Stephen M. White, Matej Kuhar
The Astrophysical Journal, 2017
Evidence of Significant Energy Input in the Late Phase of a Solar Flare from NuSTAR X-Ray Observations
Matej Kuhar, Säm Krucker, Iain G. Hannah, Lindsay Glesener, Pascal Saint-Hilaire, Brian W. Grefenstette, Hugh S. Hudson, Stephen M. White, David M. Smith, Andrew J. Marsh, Paul J. Wright, Steven E. Boggs, Finn E. Christensen, William W. Craig, Charles J. Hailey, Fiona A. Harrison, Daniel Stern, William W. Zhang
The Astrophysical Journal, 2017